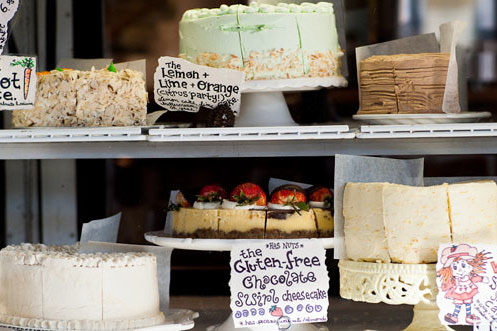 Wild Earth Bakery
We love baking, and we love our wonderful space where share that baking with new and old friends. That said we do a lot more than just bake! Great fair trade coffee and we have a whole smorgasbord of homemade soups, salads, sandwiches, pizzas and paninis to delight your savoury palette. And don't forget our cakes! All kinds of flavours, and you can even build your own.
Featured Cakes
Carrot cake - our rich, moist carrot cake stuffed to the brim with carrots, walnuts, and sultana raisins, and layered with our homemade cream cheese icing
Red Velvet - Ms. Scarlett herself has declared this the perfect cake for a Southern belle. A traditional rich, red cake accented with hints of cocoa and smothered in sweet cream cheese icing.
Mocha Red Eye cake - Luscious layered chocolate cake with espresso buttercream and a dark chocolate ganache.
Razzamatazz cake - Wild Earth's signature flavor in cake form! A sweet and sultry white cake, jazzed up with fresh raspberry filling, raspberry Italian buttercream icing, and topped off with white chocolate ganache.
London fog - Our delectable white cake layered with a vanilla earl grey buttercream and accents of lavender.
The Queen Bee cake - Brown butter and burnt honey Italian butter cream perfectly complement our delish banana cake. The whole shebang is finished off with caramelized honey
The Bonnie and Clyde cake - Some dangerous duos were destined to be together, and the coupling of chocolate and peanut butter in this cake is no exception. Our classic chocolate cake has chocolate Italian buttercream and peanut butter ganache.
Green Tea and Ginger cake - This delish white cake is layered with green tea Italian buttercream infused with hints of ginger.
Pink Panther cake - Moist, light lemon cake layered with raspberry Italian buttercream and finished off with white chocolate shavings.
Turtle Cheesecake - Chocolate, caramel, and pecans, oh my! A classic chocolate cheesecake enrobed in dark chocolate ganache and topped with caramel glazed pecans.
Caramel crunch cake - The classic combo for sweet tooth aficionados everywhere! Moist chocolate cake layered with caramel infused Italian buttercream, a thick smattering of milk chocolate ganache, and homemade sponge toffee to finish things off.
Chocolate dipped strawberry - Three layers of chocolate cake with strawberry buttercream and fresh strawberry filling, topped off with dark chocolate ganache.
780-651-7362
Ground Floor

Open daily. 10 am - 5 pm.