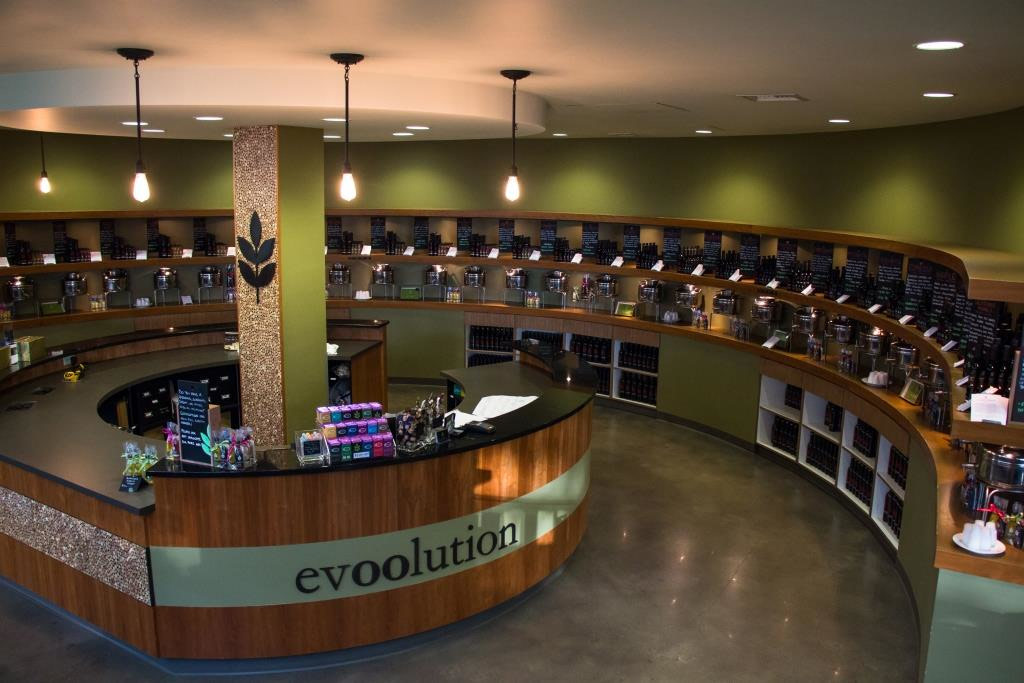 Evoolution
Our Services
Evoolution specializes in the world's freshest extra virgin olive oils and delectable aged balsamic vinegars. We have over 50 flavours of olive oils and vinegars on tap, as well as a salt bar, spices, and a selection of some of the best local specialty foods. Stop by for a personal guided tour and taste the world of olive oil and vinegar.
We also do after-hours tasting events! Register for one of our upcoming tasting events, or contact us directly about setting up your own private event for up to 16 guests.
Located next to Hole's on the upper floor of the Enjoy Centre.
Oils
FUSED & INFUSED OLIVE OIL - All natural and made with a premium extra virgin olive oil base. Pair these olive oils with our naturally infused balsamics to create sweet and savoury flavours that elevate any dish.
PREMIUM EXTRA VIRGIN OLIVE OIL- First cold pressed and fresh from the olive harvests of different world regions. Each variety is specially selected for its excellent taste, aroma, and healthfulness.
GOURMET SPECIALTY OIL- Imported from traditional sources around the world, these unique tasting oils will ignite your culinary creativity.
Vinegars
DARK BALSAMIC VINEGAR - Aged in the traditional solera method. Add depth of flavour to salads, desserts, glazes and marinades. All natural.
WHITE BALSAMIC VINEGAR - Refreshing, tart and versatile. Add a splash of zest with sweet, savoury or tangy flavours. All natural.
GOURMET SPECIALTY VINEGAR - From Champagne to Jerez, these vinegars originate from traditional producing regions to ensure authentic taste.
Salt
FUSED SEA SALT - Combining sea salt with pure, natural flavours, our fused salts make for a creative way to season your fare and add a splash of colour to your dishes.
GOURMET SALT- A selection of gourmet, unrefined, hand harvested salts from around the world. This versatile mineral is perfect for finishing a variety of dishes.
Pantry
PASTAS & SAUCES - Latini pastas, described as "better than fresh," go perfect with our delectable sauces made with San Marzano tomatoes and all-natural ingredients.
OLIVES, TAPENADE, & GARLIC - Try our selection of delicious hand-stuffed jumbo green olives from California. Both our olives and marinated garlic have a fresh, crunchy texture.
GOURMET FOODS - A carefully selected offering of hard-to-find, high quality gourmet foods from around the world. Great for snacking or serving guests.
Accessories
SPOUTS & ACCESSORIES - Make the most out our olive oils and vinegars with easy pour spouts and stylish accessories.
BERARD OLIVE WOOD - Bring the natural beauty of handcrafted olive wood into your kitchen.
SANSONE STAINLESS - Beautiful Italian made fusti and accessories. The same brand we use for our tasting bar!
Gift Sets
CUSTOM CEDAR GIFT BOXES - A unique gift for dinner parties, weddings and other special occasions. Fully customizable with your favourite oils and vinegars.
SAMPLE PACKS - Experience an assortment of our olive oils and balsamic vinegars in smaller sizes. Each sample pack contains six 60 ml bottles.
GOURMET BASKETS - The perfect gift for foodies. These baskets include our most popular gourmet foods.
WEDDING & PARTY FAVOURS - Commemorate your special occasion with our sampler sized oils and vinegars. Customized labels and packaging available.