Contact
Janice Curle
Human Resources Coordinator
101 Riel Drive
St. Albert, Alberta Canada
T8N 3X4
janice@enjoycentre.ca
780 419 6803
Toll Free 1-888-88HOLES
*Only those interviewed will receive a callback.
Download an Employment Application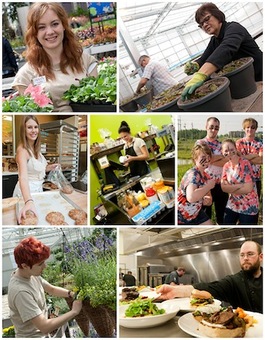 Join the Team at The Enjoy Centre!

At the Enjoy Centre we are known for having friendly, Knowledgeable and helpful staff. We value all members of our team and the experience they create for every customer who comes into The Enjoy Centre.
Human Resources Administrator ~
Business Manager Floral Studio at Hole's ~
Manager of Horticultural Production and Design at Hole's ~
The Bakery ~ Artisan Baker
The Bakery ~ Bakery Assistant
Banquet Supervisor ~ Part-time
Line Cook ~ Glasshouse Bistro & Cafe
Sous Chef ~ Glasshouse Bistro & Cafe
We are always accepting applications for Servers, Dishwashers and Host/Hostesses for the Glasshouse Bistro & Cafe